Honestly the end of September came so fast I think I have whiplash. This month was awfully busy, a lot of working, a lot of Hell's Kitchen watching, but not a lot of reading. I participated in Contemporary-a-thon in the middle of the week, which is where most of my reading took place. Last week, I wrapped up every book I read for the readathon here, so I'm not going to talk about those books in depth in this post.
But at the end of September – literally, I was reading up until midnight on the 30th – I read a total of five books. Four out of five of the books were audiobooks, and one was an e book novella/short story. So overall, an average reading month in terms of quantity. But in quality though, it was excellent. Pretty much every book – save for one during the readathon – I rated in the 4/5-star range. Funnily enough, while I was editing this post, I realized that both these books are historical fiction (hence the amazing post title…ha…ha).
Anyways, let's talk about some books!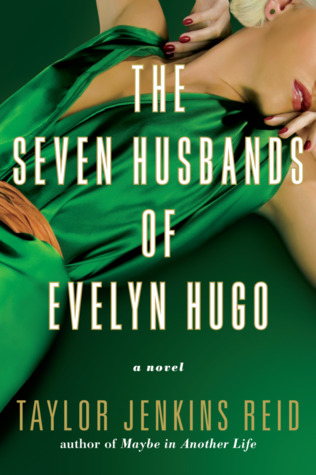 I finally picked up what seems to be the most hyped book of 2018. I'm not sure what took me so long, but I've had the audiobook sitting in my Audible library for months before I finally decided to read it. I've always been hesitant to read books that are so hyped, because a lot of the time I'm disappointed. But this book lived up to the hype completely. A historical fiction novel set in the 1950s and 2017, telling the story of a Cuban woman who had a dream of becoming a movie star and how she followed that dream in anyway possible.
This novel is told in dual perspectives: The story of Monique Grant, the unknown reporter that Evelyn insisted on selling her life story to, and how Evelyn is changing her life and teaching her how to take the things she wants a deserves all by giving Monique her biography to write; and then the actual story that Evelyn is telling. Taylor Jenkins Reid's prose is so beautifully written and just constructed in a way that when I was listening to this audiobook I could close my eyes and picture everything as if Evelyn Hugo was a real person and I was seeing her in a film.
None of the characters in this book were purely good, Evelyn even tells Monique that she isn't a good person and isn't trying to shrug aside some of the things she did to get where she needed to be in life, and that's what made this book that much better. The characters were complex, their relationships just as complicated, and Reid didn't shy away from talking about difficult things like sexism and the way women were treated in Hollywood in the 1950s, homophobia and domestic abuse. I found myself truly caring about these characters and I cried at multiple points in this book because of how attached I got to some of them.
When I heard that there was a big twist/reveal (I don't really know how to categorize it…a surprise. There we go) at the end of this book, I did what I do with all books that have a twist: I try to guess after about 10 minutes of listening. I went through about twenty different theories, and none of them were right. Reid threw me for a loop at the end of this book and I loved it so much.
Overall, I think everyone needs to read this book, because it's truly amazing and really did live up to the hype.
My Goodreads Rating: 5/5★
My Actual Rating: 4.5/5★
Stalking Jack the Ripper, book 3
Okay friends, if you've been following this blog for awhile you know that I started my
journey with Kerri Maniscalco and the Stalking Jack the Ripper series back in May, and the rest was history. I devoured the first two so fast that it put me in a reading slump because I had to wait three months after finishing Hunting Prince Dracula in June to pick up Escaping from Houdini. So, it's safe to say that this book was pretty much my most anticipated book of the year.
Audrey Rose Wadsworth and Thomas Cresswell are taking their party overseas! They're heading to America via voyage across the Atlantic, but this trip is also carrying a travelling carnival. The Moonlight Carnival, as it's titled has the works: fortune tellers, fire eaters, a mysterious ringleader who is never seen without his mask, and Harry Houdini. It's all supposed to be in good fun, until people start getting murdered on the ship, and people start turning to the carnival for the suspect.
Something about this series is that, you really can't trust anyone. Once the first murder happened, I was suspicious of everyone on the ship. Even when characters said they had alibis, and there was proof for them, I kind of sat there like:
It did take all my strength not to check the last few chapters of my hard copy while I was listening to the audiobook to figure out who did it, but I will say I did control myself. I was surprised by who ended up being the culprit, but that's what makes a good mystery. Not being able to point fingers right at the start (and trust me, I tried to).
While I love Maniscalco's characters (see every post I've ever made about this series, where I scream my love for Thomas Cresswell to the world), this book was kind of a test of my love for them, especially Audrey Rose. Here's the thing, a perfect main character is boring. Nobody is truly perfect, and I think Maniscalco has done a great job at showing her character's flaws and how they try to improve themselves in the first two books. But, Audrey Rose makes some less than ideal decisions in this book and digs herself into a huge hole of secrets and lies that she really didn't have to be in. So, while I support characters making mistakes, Audrey was toeing the line of being too much.
She makes a deal with the ring leader of the Carnival – Mephistopheles – which involves her keeping secrets from her family and Thomas while sneaking around the ship with this stranger who won't even show her his face. She mentions a few times how bad it would look if she was caught, but it wasn't the same as her sneaking around alleys in London, or in tunnels of the castle in Romania. This is a ship. There isn't too many places to hide, and people gossip.
Which brings me to one of my bigger problems with this book, Mephistopheles. I didn't like him. And to be fair, I said that about Thomas when I first read his introduction, so when we were introduced to Mephistopheles, I was expecting him to grow on me like Thomas did (aka – like a leech). But no, I found myself just angry when he was around. He black mailed Audrey Rose into doing what he wanted and was just overall kind of rude in his attempts to be snarky.
 Maniscalco introduced a love triangle in this book, and maybe its because I love Thomas way too much, but I absolutely hated it. Mephistopheles didn't even feel like a second love interest to me most of the time, it just felt a little too forced. But I really haven't met a love triangle I liked.
The last thing about this book that kind of tripped me up, was the lack of Houdini. He was in it, and he had a relatively large role during one of the sub plots (aka spoiler territory), but when I saw the title of the book and heard that there was a love triangle in this book from early reviews on Goodreads, I was expecting Houdini to be in Mephistopheles' place in the narrative. But, it was interesting to read about him and his interactions with these characters I love so much anyways. Overall, there were some issues I had with the book, but I love this series so much, and I'm once again in a rut because the next book doesn't come out until NEXT YEAR.
My Goodreads Rating: 5/5★
My Actual Rating: 4.5/5★
---
What did you guys read last month? Any new favorites? Let me know!