So…uh, remember when I said back at the beginning of June I was going to try to do the Cramathon challenge, but I didn't think I could finish reading 7 books in a week? Yeah. I was right. In fact, I couldn't read 7 books in the month, and I kind of blame the Stalking Jack The Ripper series.
I finished Hunting Prince Dracula  at the beginning of the month and while it was as good as I hoped, I had the worst book hangover for the entire month (and a little of July too) aftewards. All I want to do is read Escaping from Houdini…but I can't do that until September.
Anyways, back to what I did read in June. In total I read three books,  1 audiobook, 1 memoir and 1 poetry anthology…so let's get into it!
Hunting Prince Dracula by Kerri Maniscalco
Read as an audiobook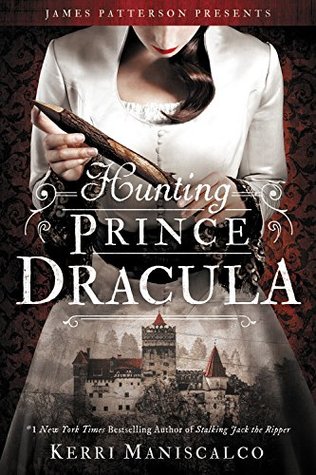 Returning to the world of Thomas Cresswell and Audrey Rose Wadsworth was everything I needed this month. I had intended – back when I thought I would be able to complete the Cramathon challenges, to add this as a part of the readathon for the "predicted 5 star read" challenge. But the fact I would've had to wait an entire 7 days between finishing Stalking Jack The Ripper and starting Hunting Prince Dracula, was an unfathomable offense to me. I needed to read it right away, and ended up also finishing it right away.
Just like Stalking Jack The Ripper, this book was witty, suspenseful, and just frightening enough that I was on the edge of my seat the entire time. One of my favorite parts of this series is trying to solve the mystery along with Audrey and Thomas and once again, when I got to the reveal at the end I screamed "oh my god" out loud. Learning about the history of Romania's vampire superstitions and more about the origins of the Dracula myth was intriguing, and honestly, I'm counting down the days until I can do a series re-read before Escaping from Houdini.
(Oh, and I still love Thomas Cresswell with every fiber of my being. That is all.)
 My Rating: 5/5★
Can You Ever Forgive Me? by Lee Israel
Can You Ever Forgive Me entered my life because of Melissa McCarthy. When my roommates and I went to see Life of the Party in May, we saw a trailer for the movie adaptation of Lee Israel's memoir. And let me tell you something: I love Melissa McCarthy. So once I saw that she was in this adaptation? And playing a literary forger? I instantly knew I needed to get my hands on the book.
Overall it was an interesting read. It was for the Cramathon challenge "a book out of your comfort zone" which, this definitely is. Memoirs and I aren't friends, mostly because I need to be extremely interested in the subject to keep reading. And Can You Ever Forgive Me never got to the point where I couldn't put it down. I only finished it in one sitting because of how short it was. This kind of read more of a 'how to' of literary forging, rather than the background of why she did and how her life was affected, which is what i was hoping for.
My Goodreads Rating: 3/5★
My Actual Rating: 2.5/5★
DROPKICKromance by Cyrus Parker
poetry anthology
Honestly I picked this one up on a whim. My friend and I were in the Target book section when I saw this book. I'm not a huge fan of modern poetry, and was going to skip over it when I saw that Amanda Lovelace wrote the foreward. Since she was the poet who got me to love some modern poetry, I decided to give this book a try.
I didn't realize until I was at home and I was reading the author bio that Cyrus Parker is Amanda's husband, and since Amanda and Cyrus both write about romance and falling in and out of love, being able to read about the same relationship from both points of view and seeing how their writing on similar topics compares and contrasts was what really pulled me toward reading this book right away. (Also the first line of the author bio for Cyrus pointed out that he was a former wrestler turned poet which just added to the intrigue).
These poems had so much passion and feeling behind them, I found myself putting sticky notes on a lot of pages. So many poems resonated with me and I'm looking forward to his next book of poetry!
My Rating: 4/5★
---
So that's my super late and super short June wrap up! What did you read in June? Were you guys successful in your monthly reading goals? Let me know in the comments! And look out for my blog post tomorrow about how I chose my books for July and August!