…Okay to be completely fair, before the Buzzword Readathon last week, I've only participated in one readathon – Spookathon, back in October – and I didn't do great. Out of the five challenges back during Spookathon I only finished two. But, the Buzzword Readathon had one challenge: Read a book with the word "girl" in the title.
Anyway, back to business. I had intended to read the only two books on my TBR shelf with the word "girl" in the title – The Final Girls by Riley Sager and The Girl From Everywhere by Heidi Heilig – but I read The Final Girls in basically one sitting, which wasn't something I was expecting, so I needed another book to get me through the week. I quickly learned though, that most of the books that have come out recently with the word "girl" in the title are either thrillers, or about heavy topics. I don't usually shy away from those types of books, but after The Final Girls, and the three nights I slept with my lights on after reading it, I wanted to read something light or even funny. So what did I end up on?
A novel about World War II.
I know, but my plans never end up working. I ended up listening to The Atomic City Girls by Janet Beard on audible during the day while I was working on other things which did help me catch up on my Goodreads reading goal as well as getting me through the challenge. Regardless, let's get down to the reviews.
The Final Girls by Riley Sager
….Holy hell. This book was so good. Terrifying, and I had to stop reading it when the sun went down (even though I really didn't want to), but still amazing.
I didn't like any of the characters really, except for Quincy, even though she had a lot of unlikable moments as well. Quincy's biggest flaw is that she has poor coping mechanisms, and to me, she didn't have the support system she needed after she survived the tragedy that she did, and with the events in this book forcing her to remember the feelings she had that night, I don't blame her for getting overwhelmed and falling back into the bad coping mechanisms that she has built for herself.
This book had a dual narrative. In first person, Quincy in the present time, dealing with things happening in her life ten years after Pine Cottage; and then in third person, recounting the moments leading up to, during and right after the events at Pine Cottage. The third person narration of the events was really interesting. Not only did it give those scenes a more horror movie feel, but it also helped the reader learn about the events without taking away the fact that Quincy can't remember the finer details of what happened.
Want to read my full thoughts on this book? Check out my full review here! (There are spoilers though, so tread lightly!)
My Rating: 4/5 ★
The Atomic City Girls by Janet Beard
Like I said earlier, I picked this up with an audible credit halfway through the week,
looking for something fast and light, which, contrary to the subject matter, this kind of was. Less about the front lines, and more about the civilian and home front aspect of World War II, The Atomic City Girls was an interesting take on the city that the atomic bombs were made in in World War II. The novel represented how the people who worked in the city were treated, the rules they had and how they tried to have more normal lives in a not so normal situation. While it was a work of fiction I found myself guessing that maybe this was actually how it was like to work with the government during World War II, with how important keeping intel quiet was.
It wasn't as captivating as I was hoping, I found myself getting distracted a lot more than I initially thought. The novel was kind of just a slice of life story which is fine, but it didn't hold my attention as much as I wanted it to when I downloaded it.
My Rating: 3/5 ★
The Girl from Everywhere by Heidi Heilig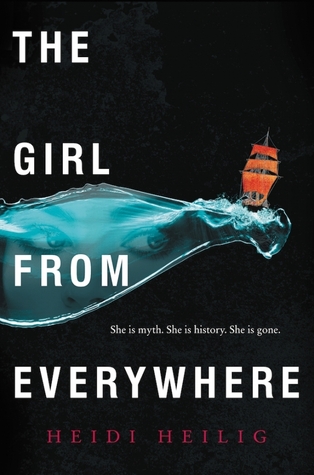 Honestly, I'm still trying to figure out how I feel about The Girl from Everywhere. I really enjoyed the aspect of time travel, and maps – I LOVE maps, so that was honestly the best part for me – being the key to travelling, but the rules of the world were kind of up in the air. We were given the official rules piece by piece as the narrative went on, because bits of the plot had to do with them, but they seem less like rules and more like suggestions? Nothing seemed to set in stone.
I did enjoy most of the characters in this book, but something that got me was how Nix referred to her father. I know that there's supposed to be this tense relationship between Nix and her father because of the reasons she assumes that her father wants to time travel back to Hawaii before she was born so badly. So while their strained relationship was understandable, something that really befuddled me a lot was the many different ways Nix referred to her father. She would cycle through "dad", "Captain" and "Slate" many times, which is usually fine, but a few times, she would use them all in one interaction. There were a few paragraphs where she went through them so quickly I had to stop and remind myself that there weren't three separate people.
Kashmir was my favorite character. The funniest and most charismatic of the bunch, I felt myself wanting to see more of him working with Nix than Nix having to help her father. And while I enjoyed reading their friendship, I did definitely start want to (and expected to, honestly) see them together by the end of the book. Which is why it annoyed the hell out of me when Heilig introduced a love triangle with a character named Blake. I found the love triangle to be completely unnecessary, and until the very end, I felt the same about Blake as a character completely. I started to warm up to him eventually, but I still don't like him as a love interest.
My Rating: 3/5 ★
---
So that's what I read last week as part of the Buzzword Readathon! Did you guys participate? If not, what books did you finish at the beginning of this month? Let me know in the comments!