Honestly I'm not even being dramatic, I really did think it was impossible. I finished The Secret History. I don't even know why it took me so long to finish reading The Secret History (I started on Christmas), but it just took me forever. Maybe I wasn't in the mood, maybe it was because I always picked it up when I was laying in bed and half asleep, I don't know. But the cards were stacked against me with it, but I have defeated the beast! Keep reading to see more detailed thoughts on that book and the other books I read this month!
This month I read 5 books, but if we want to get technical – 4 books and a short story – but hey, reading is reading. And surprisingly, I really enjoyed everything I read. There's usually at least one book I have back and forth feelings on, but this month, all of the books were in the 4/5 star range.
Obsidio by Jay Kristoff and Amie Kaufman
The Illuminae Files, Book 3
Read as an audiobook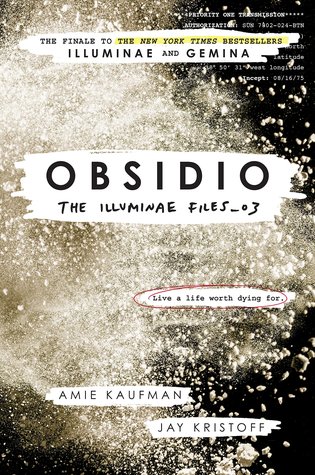 This was the best finale to a series I've ever read. The Illuminae Files is one of my favorite series', and listening them to audiobooks is honestly like watching a movie with your eyes closed. A full cast, sound effects and music, it's always an experience. And Obsidio got me through constant flight delays on my trip back from a visit with my parents for Easter.
I had some concerns going in about Obsidio – I was worried about how they were going to connect the cast from Illuminae and Gemina as well as including new people that would be introduced in Obsidio (Yes, these are the same concerns I had about Infinity Wars, but I was proven wrong about it there too.) But the book had the same amazing characters we loved from before, as well as some new bad asses. The book was funny and gut wrenching at the same time but I couldn't have asked for a better ending to  series.
Since it is the last book in a trilogy I don't want to spoil things for you here, but I've decided I want to do an Illuminae re-read and I'll be posting stand alone reviews (half spoil free, half spoiler) of the series when I do that!
My Rating: 5/5 ★
Just One Damned Thing After Anotherby Jodi Taylor
The Chronicles of St. Mary's, Book 1
Read as an audiobook
I picked this up finally, after having it in my collection since last spring. I don't really
think I've read a time travel novel before and this one lived up to any expectations I had about the genre. It was funny, educational, and overall a great read. I really enjoyed it, but I have this problem with first books in series' where I get very bored very quickly when it comes to world building and unfortunately this series obviously needs a lot of build up because of the themes (time travelling to historical places and events, and the consequences of that travel), it took awhile for the action to actually start, and I found myself skimming a lot of the first third.
There was another confusion for me which was what time the main part of the book took place in. I can't tell you why, but when I started reading this I assumed that the book took place in I want to say the late 1800s England? (I got England right, so go me!) But then descriptions of the tech came into play, which I shrugged off as 'well if they can go back in time they can go forward and steal tech right?' (I was wrong). But that confusion was more a me problem than a 'book' problem.
This novel also has a ton of characters. A whole ton of characters that are sometimes hard to keep track of, especially since different names are used in different situations. For example, Chief Leon Farrell is one of the characters you see a lot of – main character's love interest, also the head of a department at St. Mary's – and he'll be called The Chief, Leon, Farrell or Mr. Farrell. This happens with many other characters, and the entire St. Mary's team has a lot of characters, and then there's the villain side of things, that I can't really get into because of spoilers – but there are a lot of people on that side too. (Upon writing this review I stumbled upon a list of characters and who they are in the front of the book which I missed because I started off reading this book on audio, so I definitely think that while the amount of characters were still kind of confusing, if I had seen that earlier, it wouldn't have been a huge problem.)
Overall I really really enjoyed this book. I started listening to it on audiobook, but switched over to hard copy later on in the day, and I think I'm going to keep going with this series through audiobook mostly because of how many books there are in this series – I checked The Chronicles of St. Mary's Goodreads list and there are 9 full length novels and around 12 short stories? I'm not sure on that number, if you've read this series and know exactly how man there are/will be let me know! But with Audible sales and Audible credits, I think getting the audiobooks will be easier for me in the long run. But I'm excited. This concept sounds like a lot of fun. I'm glad I picked this up!
My Rating: 4/5★
The Very First Damned Thing by Jodi Taylor
A Chronicles of St. Mary's Short Story
Read as an audiobook
One of the 12 short stories in the World of St. Mary's, honestly. I picked it up right after reading Just One Damned Thing, mostly because I was 2 books behind schedule in my Goodreads Reading Challenge and I wanted to get back on track. But I thought the story was great! It had the same humor as Just One Damned Thing and it was the origin story of the program and how everything was set up. I really enjoyed it.
My Rating: 4/5★
The Secret History by Donna Tartt
Now I have to be honest, this book was nothing like I expected it to be. When I read the summary, I was expecting the characters to branch away from the school and the town and create their own kind of Greek utopia, their own little world, which wasn't the case at all.
The beginning was severely slow for me. I felt like there was a lot of detail for a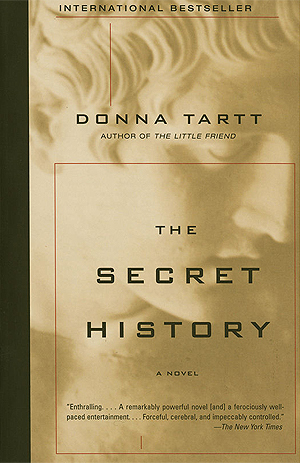 lot of unimportant things leading up to the action, which might be why I dragged my feet at the beginning. However, once the action started, the book got a lot better. I just feel like the first few chapters could've been cut down.
The thing about the characters was, I didn't really like any of them at all, and that made me love them even more. None of them were GOOD people and honestly I love that. I was expecting Julian to be a bigger piece in this puzzle than he was. He kind of disappeared in the middle, which confused me because I thought he was going to be the ringleader of this whole thing going in. But, like I said, I went into this book with a lot of expectations, but they were all wrong. I think out of all of them I liked Francis the most, he didn't come off as too snobbish, but the others definitely did.
Overall I really enjoyed this book, but I think I might try Donna Tartt books in audio format next time.
My Rating: 4/5★
Leah on the Offbeat by Becky Albertalli
Creekwood, book 2 
I know a book is really good when I fall asleep holding it because I don't want to stop reading it. This book was everything I needed lately. Completely adorable, funny, and the cast of characters I fell in love with in Simon Vs. The Homosapiens agenda.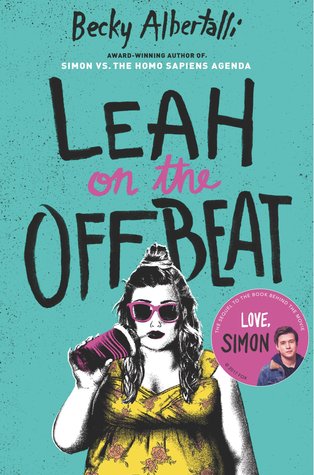 Sometimes I'm skeptical of a lot of pop culture references in contemporary novels but I think it works in here mostly because Leah is very much a mega nerd so it fit. I think this book is actually one of the first contemporary I've read that didn't sugar coat how weird and emotional the end of senior year of high school is for students (which might go to show how few contemporary novels I've read in the past? Suggest your favorites!) and Becky wasn't afraid to show all the sucky sides of senior year and dealing with the potential separation of friends who are more like family.
Some of the characters rubbed me the wrong way a little bit, Nick's behavior kind of grated on me as time went on, mostly because he was unabashedly rude about many things that happened close to the end of the novel (I'm trying not to spoil, I'm sorry for the vaugeness). There was also a lot of drama, which is very common for the tail end of senior year in high school. But overall I really enjoyed it and it was a great ending to the world of Simon, Leah and their friends. I highly suggest this book and the series to everyone because God they're adorable.
My Goodreads Rating: 5/5★
My Actual Rating: 4.5/5★
---
So there we go! What did you guys read this month? Let me know in the comments!