Nothing like posting a wrap up for August on September 8th, right? A lot of stuff went on in August, one of which was the fact that I moved across country to California! And I know what you're thinking: "the six hour plane ride must've been a great time to get some reading done!" That's what I thought too. But alas, the world decided that wouldn't be the case.
I managed to read four books this month, which is a smaller number than what I was expecting, but I stuck with my TBR list this time so small victories. Anyways, let's get into it.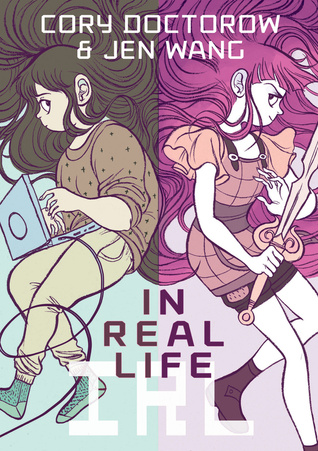 In Real Life by Cory Doctorow, Illustrated by Jen Wang
Graphic Novel
I've been really interested in graphic novels lately and I heard nothing but good things about In Real Life, so I was super excited to pick this up. I wasn't as in love with the story as I was hoping. The plot was definitely interesting and taught me a lot about what happens behind the scenes of online games and how they make money, but the plot went really fast for me. The art was beautiful, though! I just wish there was more about the main character, her entire story seemed pretty rushed to me.
My Goodreads rating: 4/5 ★
Down Among the Sticks and Bones by Seanan McGuire
Wayward Children Series, Book 2
This book is a prequel to the first book in the Wayward Children series, Every Heart a Doorway, which I discussed at length in my July wrap up. Basically, this series is one of the most creative things I've seen in a long time and I love it so much. This story follows twins Jack and Jill and their lives before and during their adventures through their doorway, which led them to a horror movie-esque land called The Moors.
Down Among the Sticks and Bones touched upon things like sexuality, gender roles, self identity and family issues like I've never seen before in Young Adult books. The writing was beautiful and there were illustrations dispersed throughout the story that really pulled me into this world. Seanan McGuire is a genius and I'm eagerly awaiting January so I can get my hands on the next book.
My Goodreads rating: 5/5 ★
The Gentleman's Guide to Vice and Virtue by Mackenzi Lee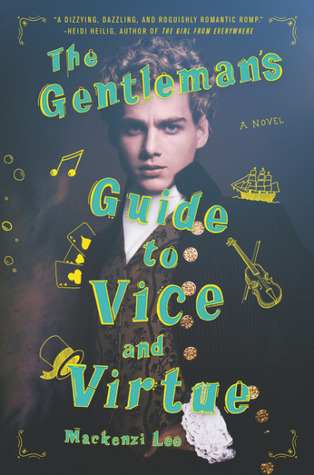 Read as an audiobook
What a book to get me through building Ikea furniture! I had heard so much about Gentleman's Guide being an amazing book and was super excited to pick up a hard copy until I found out that the narrator of the audiobook was the original Tom Riddle from the Harry Potter movies. I can never turn down a good narrator, so I picked it up on Audible and was not disappointed. Monty's on my list of new favorite characters, he's witty, funny and generally growing as a human being which honestly isn't something you see a lot of those characters that are written this well.
There were times I wanted to shake him and tell him to open his eyes, but overall the characterizations of him, his sister Felicity and his best friend Percy were fantastic, and I'm extremely excited to look for the sequel that's told through Felicity's point of view.
My Goodreads rating: 5/5 ★
Trigger Warning: Short Fictions and Disturbances by Neil Gaiman
Read as an audiobook
Reading this book of short stories as an audiobook was both a blessing and a curse. A blessing because Neil Gaiman telling me stories was the best way to get through the few days I read this. A curse because his voice is a quiet soothing voice that made me space out while listening. I found myself having to rewind and re listen a few times, but overall the stories were good! Some too short for my taste, but they weren't as scary as I was expecting (which for me is always a good thing).
I think I might revisit this audiobook in October and see if anything that didn't stick out to me before sticks out to me then!
My Goodreads rating: 4/5 ★
---
What did you guys read in August? Let me know in the comments and look out for my September list coming up in…about an hour!