I'm actually following this list this time, I swear! August is another busy month involving a lot of travel, so most of these are either quick reads or audiobooks!
In Real Life by Cory Doctorow & Jen Wang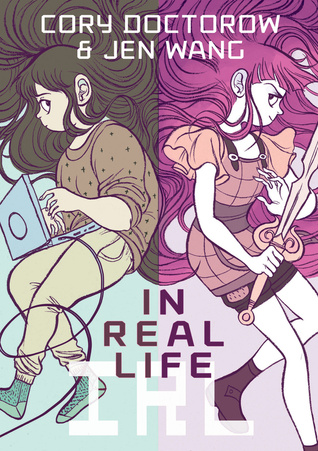 Anda loves Coarsegold Online, the massively-multiplayer role-playing game where she spends most of her free time. It's a place where she can be a leader, a fighter, a hero. It's a place where she can meet people from all over the world, and make friends. 

But things become a lot more complicated when Anda befriends a gold farmer–a poor Chinese kid whose avatar in the game illegally collects valuable objects and then sells them to players from developed countries with money to burn. This behavior is strictly against the rules in Coarsegold, but Anda soon comes to realize that questions of right and wrong are a lot less straightforward when a real person's real livelihood is at stake.
I've really wanted to read a graphic novel recently, but I haven't been able to find one I'm interested in for awhile. I was going to end up re-reading one of my favorites this month, but then I started to hear about In Real Life. The deciding factor about reading this graphic novel in particular was that people were comparing it to Fangirl by Rainbow Rowell which is one of my favorite books ever. So I figured I'd give it a shot.
Down Among the Sticks and Bones by Seanan McGuire
Book #2 in the Wayward Children series
Twin sisters Jack and Jill were seventeen when they found their way home and were packed off to Eleanor West's Home for Wayward Children.

This is the story of what happened first…

Jacqueline was her mother's perfect daughter—polite and quiet, always dressed as a princess. If her mother was sometimes a little strict, it's because crafting the perfect daughter takes discipline.

Jillian was her father's perfect daughter—adventurous, thrill-seeking, and a bit of a tom-boy. He really would have preferred a son, but you work with what you've got.

They were five when they learned that grown-ups can't be trusted.

They were twelve when they walked down the impossible staircase and discovered that the pretense of love can never be enough to prepare you a life filled with magic in a land filled with mad scientists and death and choices.
The first book in this series was so intriguing I'm so excited to continue it with Down Among the Sticks and Bones. Especially since finishing Every Heart a Doorway left me with more questions about Jack and Jill than answers. I'm interested in having those questions answered.
Alex, Approximately by Jenn Bennett
Classic movie fan Bailey "Mink" Rydell has spent months crushing on a witty film geek she only knows online as Alex. Two coasts separate the teens until Bailey moves in with her dad, who lives in the same California surfing town as her online crush.

Faced with doubts (what if he's a creep in real life—or worse?), Bailey doesn't tell Alex she's moved to his hometown. Or that she's landed a job at the local tourist-trap museum. Or that she's being heckled daily by the irritatingly hot museum security guard, Porter Roth—a.k.a. her new archnemesis. But life is a whole lot messier than the movies, especially when Bailey discovers that tricky fine line between hate, love, and whatever it is she's starting to feel for Porter.
This is another contemporary novel I'm going out on a whim for. Like I said in my July wrap up, it's unusual for me to pick up a contemporary novel that isn't heavily recommended, but this one I needed, and I can explain in three words: You've Got Mail. If you know me at all you know my favorite movie is You've Got Mail and the fact I saw someone on Goodreads describe it as a YA adaptation of You've Got Mail I was sold.
Gentleman's Guide to Vice and Virtue by Mackenzi Lee
Henry "Monty" Montague was born and bred to be a gentleman, but he was never one to be tamed. The finest boarding schools in England and the constant disapproval of his father haven't been able to curb any of his roguish passions—not for gambling halls, late nights spent with a bottle of spirits, or waking up in the arms of women or men.

But as Monty embarks on his Grand Tour of Europe, his quest for a life filled with pleasure and vice is in danger of coming to an end. Not only does his father expect him to take over the family's estate upon his return, but Monty is also nursing an impossible crush on his best friend and traveling companion, Percy.

Still it isn't in Monty's nature to give up. Even with his younger sister, Felicity, in tow, he vows to make this yearlong escapade one last hedonistic hurrah and flirt with Percy from Paris to Rome. But when one of Monty's reckless decisions turns their trip abroad into a harrowing manhunt that spans across Europe, it calls into question everything he knows, including his relationship with the boy he adores.
I've heard a lot of great things about this book, historical fiction is a genre I love but never read enough of so I'm excited to jump into this. On top of it, the audiobook narrator – Christian Coulson – played young Tom Riddle in the Chamber of Secrets movie which is super cool.
Trigger Warning: Short Fictions and Disturbance  by Neil Gaiman
Trigger Warning explores the masks we all wear and the people we are beneath them to reveal our vulnerabilities and our truest selves. Here is a rich cornucopia of horror and ghosts stories, science fiction and fairy tales, fabulism and poetry that explore the realm of experience and emotion. In "Adventure Story"–a thematic companion to The Ocean at the End of the Lane–Gaiman ponders death and the way people take their stories with them when they die.

His social media experience "A Calendar of Tales" are short takes inspired by replies to fan tweets about the months of the year–stories of pirates and the March winds, an igloo made of books, and a Mother's Day card that portends disturbances in the universe. Gaiman offers his own ingenious spin on Sherlock Holmes in his award-nominated mystery tale "The Case of Death and Honey". And "Click-Clack the Rattlebag" explains the creaks and clatter we hear when we're all alone in the darkness.
Reading The Graveyard Book reintroduced me to my love of Neil Gaiman. So when I stumbled across this book of short stories I instantly wanted to get it. Then I found out that Neil Gaiman himself narrated the audiobook and then I was sold (full cast audiobooks and audiobooks narrated by the authors are my two favorite types of audiobooks. Just in case you wanted to know.)
Meddling Kids by Edgar Cantero
1990. The teen detectives once known as the Blyton Summer Detective Club (of Blyton Hills, a small mining town in the Zoinx River Valley in Oregon) are all grown up and haven't seen each other since their fateful, final case in 1977. Andy, the tomboy, is twenty-five and on the run, wanted in at least two states. Kerri, one-time kid genius and budding biologist, is bartending in New York, working on a serious drinking problem. At least she's got Tim, an excitable Weimaraner descended from the original canine member of the team. Nate, the horror nerd, has spent the last thirteen years in and out of mental health institutions, and currently resides in an asylum in Arhkam, Massachusetts. The only friend he still sees is Peter, the handsome jock turned movie star. The problem is, Peter's been dead for years.

The time has come to uncover the source of their nightmares and return to where it all began in 1977. This time, it better not be a man in a mask. The real monsters are waiting.

With raucous humor and brilliantly orchestrated mayhem, Edgar Cantero's Meddling Kids taps into our shared nostalgia for the books and cartoons we grew up with, and delivers an exuberant, eclectic, and highly entertaining celebration of horror, life, friendship, and many-tentacled, interdimensional demon spawn.
This was a random buy for me. The cover looked really cool so I picked it up, but then I decided to buy it when I saw the description. I love mystery novels and the idea of a Scooby Doo style gang crime fighting together seemed really interesting!
The Foxhole Court by Nora Sakavic
Neil Josten is the newest addition to the Palmetto State University Exy team. He's short, he's fast, he's got a ton of potential—and he's the runaway son of the murderous crime lord known as The Butcher.

Signing a contract with the PSU Foxes is the last thing a guy like Neil should do. The team is high profile and he doesn't need sports crews broadcasting pictures of his face around the nation. His lies will hold up only so long under this kind of scrutiny and the truth will get him killed.

But Neil's not the only one with secrets on the team. One of Neil's new teammates is a friend from his old life, and Neil can't walk away from him a second time. Neil has survived the last eight years by running. Maybe he's finally found someone and something worth fighting for.
This series is one of my favorites. I found these books through Tumblr and I think they're so interesting and I've wanted to do a re-read actually right after I finished the third book, so that will happen some time this year.
---
So that's my August To Be Read list! What are you planning to read this month?