So I watch a lot of Booktube, and this has been going around the different channels I watch regularly this past month. Essentially vloggers and bloggers share their favorites and least favorites of the books they read from January through June! It looked like fun so I decided to try it out!
As a note – Since I began writing this blog post (July 6th, 2017) I've read 28 full books. Interested in my reading challenge? Click here!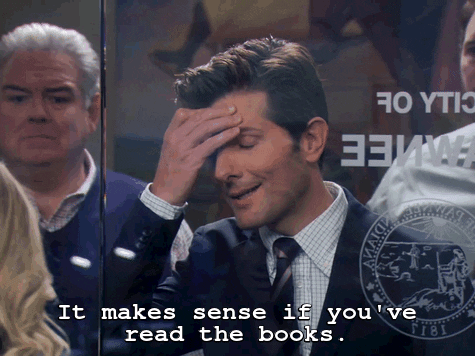 (the only relevance this gif has is that it's about books – but anyways, let's get started!)
Best Book You've Read So Far in 2017?
Wow, starting off with the hardest question ever – I see you tag creator, I see you – but I really loved this novella I read by Karen Russell called Sleep Donation – it was such an interesting world I found myself getting really into it and wishing it was a series instead of a novella.
Best Sequel You've Read So Far in 2017?
Crooked Kingdom by Leigh Bardugo
New Release You Haven't Read Yet, But Want To?
Lord of Shadows by Cassandra Clare – I haven't had the chance to start the Dark Artifices series and I want to so bad because a) I love the Shadowhunter universe and b) I've heard that Lord of Shadows is Cassandra Clare's best book to date – so I need to get through Lady Midnight before I can get my hands on Lord of Shadows, but I'm really excited.
Most Anticipated Release For Second Half of 2017?
They Both Die at the End by Adam Silvera! I've never read a book of his before and this one just seems so interesting I'm really excited to read it. (Release Date: September 5th, 2017)
Biggest Disappointment?
The 12 Lives of Samuel Hawley by Hannah Tinti – it was too long and way too slow at the beginning and I was so excited for the premise of that book at the beginning and I walked away really disappointed.
Biggest Surprise?
Honestly, how much I liked The Raven Boys. I had tried reading it before through the audiobook, but I couldn't get into it at all, but then when I read it last month I absolutely fell in love.
Favorite New Author?
New to me but not new to writing: Leigh Bardugo.
Newest Fictional Crush?
I haven't really fallen in love with a fictional character the way I fell in love with Jace Wayland when I first read the Mortal Instruments series, so platonic crush wise, I want to be a member of the "Gangsey" from The Raven Cycle series by Maggie Stiefvater.
Newest Favorite Character?
Noah Czerny from The Raven Cycle series by Maggie Stiefvater, hands down. He's a gem.
Book That Made You Cry?
This list is almost completely centered around the Six of Crows duology but oops, I sobbed when I read Crooked Kingdom. But I also teared up reading the end of The Graveyard Book by Neil Gaiman.
Book That Made You Happy?
Geektastic (edited) by Holly Black and Cecil Castellucci. This anthology of geeky short stories was so fun to read because – while there were some stories I couldn't relate to – I found myself connecting to the characters on a personal level.
Favorite Book To Movie Adaptation You Saw This Year?
I'm changing this to 'book to TV adaptation' because the first season of A Series of Unfortunate Events on Netflix was amazing.
Favorite Review You've Written This Year?
I have not written any yet, but I'm planning on writing one for the Six of Crows duology sometime this month!
Most Beautiful Book You Bought So Far This Year?
Caraval by Stephanie Garber – I mean, just look at it:
What Books Do You Need To Read By The End of The Year?
Ugh so many. Numbers wise, I need to finish reading 22 books to reach my reading goal, but there are SO MANY books I want to read I can barely see my computer screen over my TBR list. To prove my point, click here to be taken to my Goodreads TBR list!