I was going to post this yesterday and then my July TBR today. You'll find out why I'm posting this today in a second, but hey! Two posts from Lindsey in a day!
Okay so, June was a pretty fun month in general. I went to parties, went shopping for a new "more adult" wardrobe with my sister, applied to an almost endless list of jobs. That last one isn't as fun, but hey. One of the best things about this month was how much reading I was able to do. My June TBR had 5 books on it, and I ended up reading 9! There are a few books on this list I plan on writing full reviews for, but for right now I'm just giving some quick thoughts and my Goodreads rating for them! They're listed from most recently read (aka the book I finished last night) to the first book I finished at the beginning of June!
Let's get started! (links to the books Goodreads summaries are in the title of the books)
The Raven Boys by Maggie Stiefvater – 5/5 ★
Book 1 in the Raven Cycle Series
Alright this book right here. This. Book. This book is the sole reason that this post is a day later than I planned. I tried reading this book via audiobook back in November because I heard a lot of great things about it, and I couldn't get into it. I think a lot of that was because I wasn't interested in the narrator. So I gave up, deciding that this series just wasn't for me. Then my friend read the books and told me I needed to read them. She and I have extremely similar interests so I figured I would give it once last chance and I'm so glad I did.
The Raven Boys – and the rest of the Raven Cycle series – is beautifully written, the plot line is creative and unique and the characters are so compelling I had to remind myself it was 2 AM and I had to sleep instead of reading the next book in this series.
I realized about halfway through reading The Raven Boys that this book is better experienced through it's written form. Having a hard copy gives you the chance to go back  and read the words over and over, and I can promise you that you will – some of my favorite lines of all time have come from this book.
The 12 Lives of Samuel Hawley by Hannah Tinti – 3/5 ★
Read as an audiobook
I picked up The 12 Lives of Samuel Hawley because the plot line grabbed me from the start, then I heard that it was an interpretation of a Hercules myth and at that point I was completely sold. I love Greek mythology and interpretations of it (I can talk for days about Rick Riordan's Percy Jackson series) so I was looking forward to it. I got it as an audiobook with an Audible credit and was excited to listen to it.
The plot was definitely interesting, and I connected with it because it's set in Massachusetts, but honestly the only reason I finished the book was because it was an audiobook and I could see how many hours I had left. Even then, it was a struggle. I found the novel to be too long. The "12 lives" in the title refer to Samuel Hawley's twelve scars and there is a chapter dedicated to each in the novel, however those chapters came in a little bit later than I would've liked. Since I listened to the book, I had to listen to around an hour and twenty minutes of build up before I got to hear stories about the past. And the chapters that took place in the past were probably the strongest parts of the book for me, so I wish that the book started that part a little faster.
This book is another story of a poor narrator choice in the audiobook. The book is set in Massachusetts and revolves around Sam Hawley and his daughter Loo. Most of the book is told from Loo's perspective growing up and the other part is Sam's past. I figured the narrator would be either a man or a woman with a more New England sort of voice, but the narrator for this book had a kind of southern sound to her voice and it didn't really pull me into the setting like I expect from audiobooks.
Night Film by Marisha Pessl – 4/5 ★
Reading this book was an experience.
Everyday I had to put this book down promptly at 8 PM and go do something a little more lighthearted, like watch the marathon reruns of Say Yes To The Dress on TLC. That pattern isn't because the book was bad, not at all. It's because I'm the biggest chicken you can imagine. Night Film is advertised as a mystery thriller on Goodreads and oh man is that the truth.
Night Film never really has a moment of down time.
Whenever I did end up putting it down, the plot would stay in my mind – the events I read sticking with me making me walk around my house looking like:
This novel also used an approach I love, incorporating mixed media into the narrative. There were police files, online articles and photos of the people being researched scattered throughout the book, an amazing touch. On top of that, I found out that there is even more content on the author's website. The way this story was told was extremely interesting, and while I think the book was a little longer than it needed to be, I think if I hadn't stopped myself every night I would've finished this book in two days instead of three.
Geektastic edited by Holly Black and Cecil Castellucci – 3/5 ★
This anthology of short stories was extremely entertaining. The short stories were small peeks into lives of different types of nerdy life and honestly the different characters represented the idea that not all nerds are the same. I really enjoyed most of the stories, though some of them had pop culture references that I didn't understand, but overall I enjoyed the anthology. Each story was book-ended with a comic illustrated by either Bryan Lee O'Malley or Hope Larson which were fun to see in between. My four favorite short stories from this anthology are:
One of Us by Tracy Lynn
I Never by Cassandra Clare
Secret Identity by Kelly Link
The Stars at the Finish Line by Wendy Mass
Kindred Spirits by Rainbow Rowell – 5/5 ★
I read this in one sitting, and while yes that's partially because this is a short story/novella, it's also because this story is adorable, funny, and overall fantastic. Written by one of my favorite authors – seriously, Rainbow Rowell's writing is amazing – this story has been on my To Be Read list for a long time. It was a great read especially while I was reading Geektastic because it felt like it belonged in that anthology. If you like Star Wars or Rainbow Rowell, I definitely suggest reading this.
My Friend Dahmer by Derf Backderf – 4/5 ★
Graphic Novel
Ever since I took a class on them, I've been extremely interested in graphic novels, and recently I found My Friend Dahmer, which is a biographical story of Jeffrey Dahmer, written and illustrated by someone who went to school with him, showing a part of the story that not a lot of people knew. The art was very cool, and since I read it as an E-book I got some extra content, like seeing the first few drafts of pages and some other things like interviews that were used as source material for some sports Backderf didn't know about in the graphic novel.
The Color Master Stories by Aimee Bender – 3.5/5 ★
Another short story collection, although this time the stories were written by the same author. Aimee Bender was suggested to me through someone in my creative writing class because I voiced interest in writing magical realism. Aimee Bender's stories are weird, but also fantastic. I enjoyed this book, although I felt that some stories were almost too short. There were four that really stuck with me, and those stories are:
Faces
Wordkeepers
Color Master
Americca
The Graveyard Book by Neil Gaiman – 4.5/5★
I've had my eye on the Graveyard Book for a really long time. I've read Stardust by Neil Gaiman before and loved his writing and I've only ever heard great things about this book. So I finally picked it up and honestly it didn't disappoint. This story is technically a Jungle Book retelling, but I never read the Jungle Book story nor saw the Disney movie more than once so that never really played a part in my reading. But the idea of creating the story around a graveyard is beautiful. One of my favorite parts of this novel were the illustrations. There are a few different editions of this book where different illustrators contributed their art, but my copy had drawings by Dave McKean. They were beautiful and looked almost like they were drawn in smoke, like a ghost, which definitely added to the tone of the story.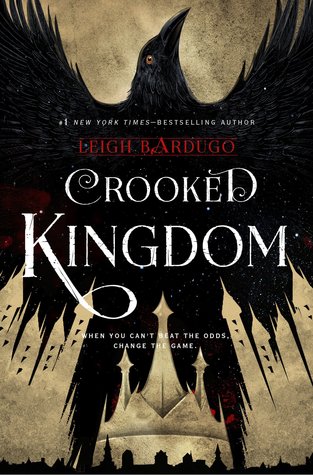 Crooked Kingdom by Leigh Bardugo – 5/5★
Book 2 of the Six of Crows Duology
Read as an audiobook
Okay listen. This book is honestly the best book I've read in a long time. Actually no, this series is one of the best series I've read in a long time. I've had both these books on my shelf for a long time but I never had the chance to sit down and read the books. So I got the audiobook to listen to while I did work and other things, and honestly I'm so glad I did.
Having six different narrators for each character in this POV changing duology was an amazing touch. Listening while driving was probably not a good idea in some parts since I almost sobbed twice.
I won't spoil anything for the duology, but all I'm saying is, read these books. They're amazing and touching and make you feel things. I attribute my great reading month to Crooked Kingdom, because it made me hungry for more amazing stories.
---
So there you have it. My month started with a crow and ended with a raven. Tune in later (aka twenty minutes) to find out what's in store for July!
I leave you with one final Ron Swanson